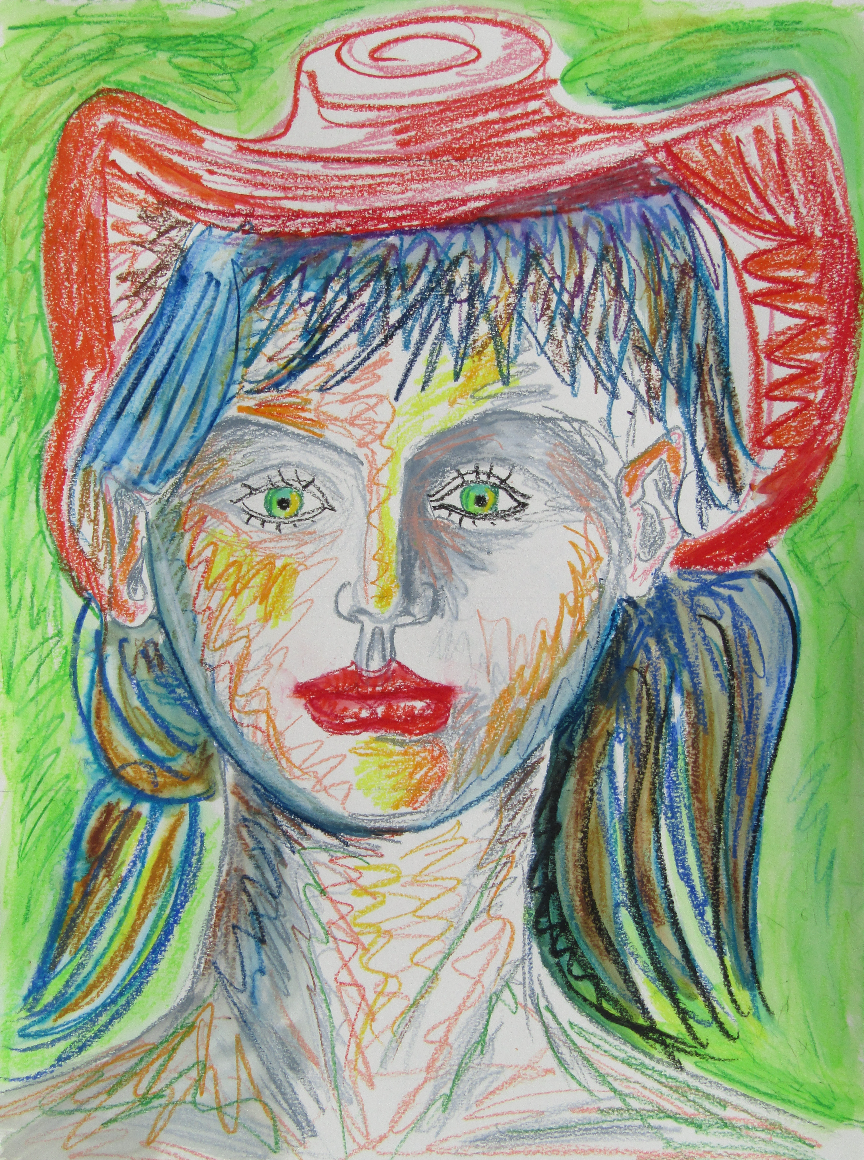 Woman with a red hat. New Paltz, NY. 8 April 2019. Watercolor crayon on Strathmore watercolor paper. 24 x 18 inches.
Interviews:
Part Two of Couteau's interview with Sylvette David, Picasso's model and muse, now on Youtube: Sylvette David talks about her paintings in a conversation with Rob Couteau. June 2018.

Interview with Danny Goldberg, former president of Atlantic Records, founder of Gold Village Entertainment, and author of "In Search of the Lost Chord: 1967 and the Hippie Idea. Featured in the Rain Taxi Review, March 2018.
An Interview with Picasso's Famous Model and Muse, Sylvette David: 'The Woman with the Key,' tygersofwrath.com, January 2018.
A Conversation with Robert Roper, author of Nabokov in America: On the Road to Lolita, tygersofwrath.com, August 2015.
An Interview with Biographer James Dempsey, Author of The Tortured Life of Scofield Thayer, tygersofwrath.com, July 2015.
When Feeling is First.' A Conversation with Christopher Sawyer-Laušanno About E. E. Cummings's Prose Masterpiece, The Enormous Room, tygersofwrath.com, February 2015.
The New York Times cited Couteau's Ray Bradbury interview on April 16, 2015, in an article titled Reclaiming the Age-Old Art of Getting Lost, by Stephanie Rosenbloom.


Book Publications:
More Collected Couteau received a glowing review from the Midwest Book Review: "The joy of reading Couteau's works lies as much in his penetrating, crystalline language as it does in the works or figures being examined, and so readers receive a wide-ranging treat that examines victims, vengeance, mortality and immortality through an inspection process that educates even those unfamiliar with the subject [...] Readers seeking not just a literary presentation but a lively analysis of selected wordsmiths and their lives and influences must add More Collected Couteau to their reading lists. It's a powerful presentation that offers much insight and food for thought, and which should find its way into many a college classroom as well." See the complete review here. Available on amazon. March 2016
More Collected Couteau, was also reviewed by Publishers Weekly, BookLife: "Couteau's essays are informal, fervent, and well-versed examinations of the work or author at hand. At their best, they include fascinating insights into the significance of a writer like [Hubert] Selby.... The interviews are uniformly strong and include conversations with Michael Korda on T.E. Lawrence, Justin Kaplan on Walt Whitman, and Robert Roper on Vladimir Nabokov. Not all of them focus on literature: author Jeffrey Jackson covers the 1910 flood of Paris and why it's relatively forgotten, and Robert De Sena, in one of the best interviews, discusses his life as a gang member turned community activist. Couteau's passion and wealth of knowledge are obvious throughout the book ... and should appeal to many readers." February 2016